ADA Detectable Warning Tiles Wet Set – TufTile Truncated Domes
ADA Detectable Warning Tiles Wet Set – TufTile Trunc
ated Domes
ADA Detectable Warning Tiles Wet Set (Replaceable) Tuftile is a leading manufacturer of ADA compliant detectable warning devices (truncated domes). Our product line includes both polymer and powder coated cast iron tactile pavers, with a range of radius wedge connectors to simplify installations requiring radius finishes. TufTile is one of the only companies offering a polymer DWD tile that actually manufacture them in our own facility, reducing costs and lead times while allowing us to maintain high quality control standards.
Safety Red Detectable Warning Tile is now in Stock !!!
TufTile® WS is a UV stabilized, high-impact polymer engineered for superior impact-resistance, slip-resistance, wear-resistance, and long-term durability for new construction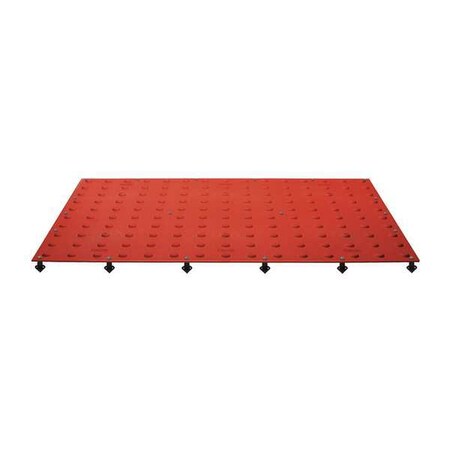 installations.
TufTile's unique umbrella designed anchors lock the tile securely into the concrete without displacing aggregate or trapping air beneath the tile's surface. Press into freshly placed concrete and held by umbrella style anchors.
Concrete Keepers™ integrate with concrete "slurry" holding tile fast when concrete cures.  Water and Ice have no home under a TufTile.  TufTile have a void-free back  containing no voids, cavities, or ribbing which can trap air pockets and lead to freeze-thaw heaving in cold climates. There are 25 Concrete Keepers™ per square foot on all TufTiles.

TufTile's exclusive design incorporates slip-resistant truncated domes molded to exact ADA specification for detectable warning systems. Homogenous materials, uniformly distributed throughout the thickness of the tile provides for superior strength and color stability.
TufTile's low profile coupled with beveled perimeter edges provides for an easy, safe transition from  surrounding surfaces. This unique (replaceable) design is lightweight, strong and flexible so installations are efficient and easy.
TufTile® ADA Tiles have a 5-Year Limited Warranty!!
TUFTILE® TACTILE IS ADAAG / PROWAG / CA TITLE 24 COMP
Gamka TufTile Submittal Package 2016
HIGH-IMPACT POLYMER TILES WET-SET (REPLACEABLE)
TufTile's ADA Tactile Tiles are manufactured with an advanced proprietary polymer that offers exceptional performance characteristics.
* UV Stability – not just on the surface but integrated throughout the polymer
* High-impact resistance
* Abrasion resistance
* Slip resistance
* Overall long-term durability
* Homogenous color – not just on the surface but integrated throughout the polymer
* TufTiles are 100% recyclable
Gamka is the Authorized Distributor for New Jersey and surrounding areas. Please contact us at 732-248-1400 or email us at sales@gamka.com – place your order today. We can deliver to you.